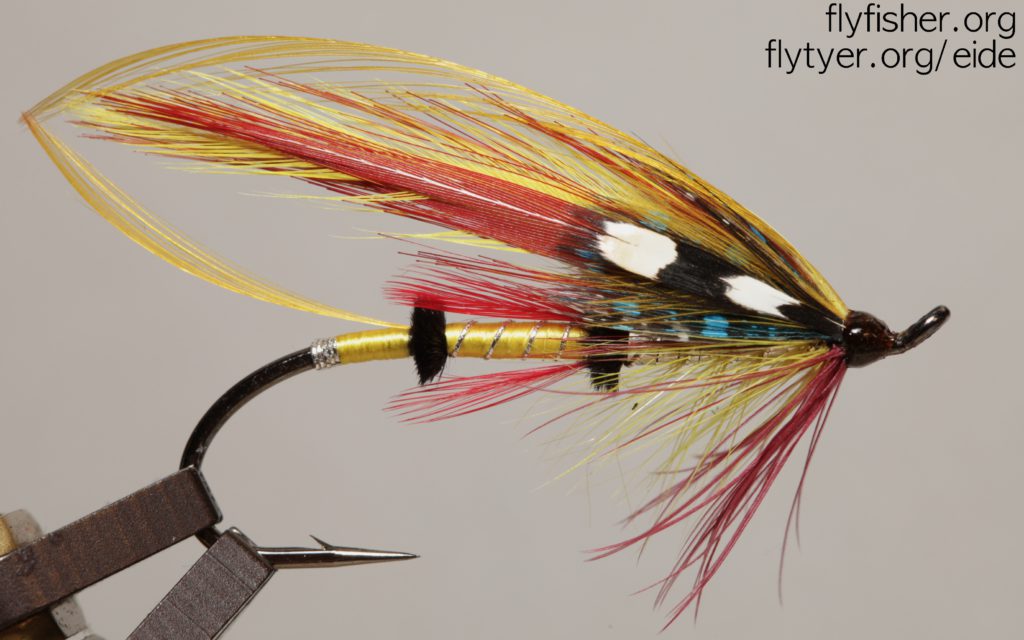 Hook: Partridge M2 #2/0
Tag: Veevus small, Lagartun yellow silk floss
Tail: GP
Butt: Ostrich
Body: first half yellow with red veiling, second half silver, separated by ostrich herl
Rib: Veevus small
Hackle: Yellow over silver
Front hackle: Red
Wing: Yellow swan underwing, 2 yellow rooster back to back, red GP tail feather
Sides: Black&white + Blue Guinea, CDC toucan, JC
Topping: GP
A while back I got a request from a person I know from Facebook if I could help out with a pattern that he had a magazine clipping of, but never had seen in real-life. The pattern was created by Alex Simpson and was a pattern inspired by the moon landing in 1969: the silver body being the rocket body, red and yellow tail was the flames, the blue/black guinea was the surface of the moon and the JC the windows out to space.
The original pattern calls for Indian Crow (veiling) and Toucan (sides), but I don't have that, so going for some substitutes in the spirit of the idea behind the pattern instead. The picture included (a very small one) also shows what appears as IC veiling on the tail, but it was not in the pattern description that I was sent, so I excluded that.