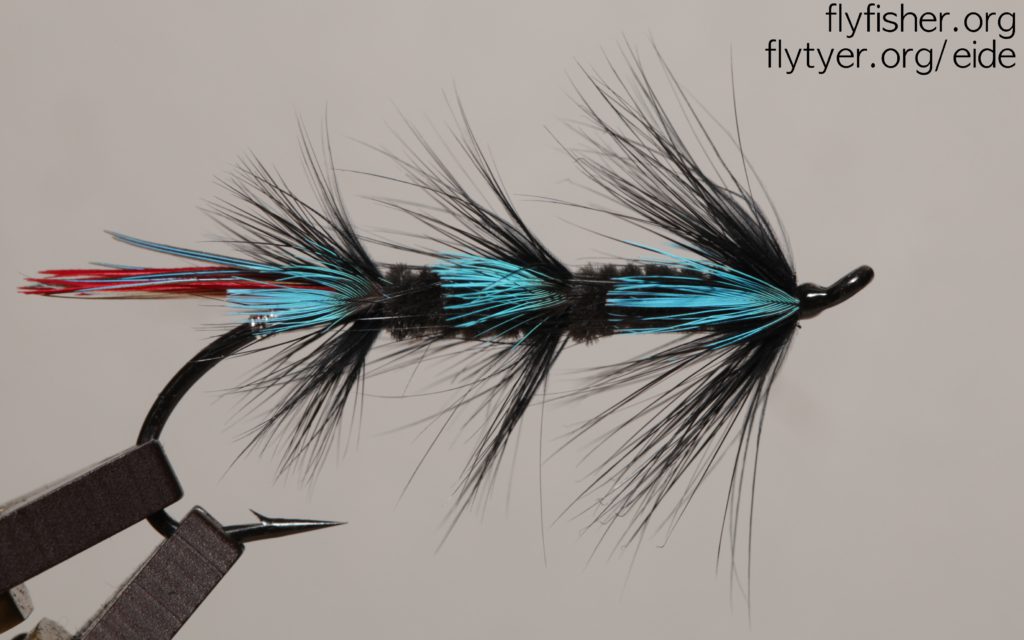 Hook: Mustad 80500-npbl #1/0
Thread: Semperfli 18/0
Tag: Silver and light blue silk
Tail: swan & macaw
Rear hackle: Black, cheeked with kingfisher
Body: Black chenille with a black hackle in the center, cheeked with kingfisher
Front hackle: Black, cheeked with kingfisher
Continuing the grub series, here a pattern from George Kelson "The salmon fly" from 1895. I substituted ibis with swan, powdered blue macaw with blue/yellow macaw and chatterer with kingfisher. The look and feel is the what is important here (plus the fact that I don't have 6 chatterer feathers around for testing out new patterns). Will try to tie this one up with light blue hackle tips to see how that can work: the kingfisher is not maintaining that clear colour once it is in water, so for fishing purposes it would be good to have something that will last a bit longer.
A pattern that can be tied up with both shorter (and more sparse) hackle and one with longer hackle, depending on the movement you want in the water. A heron hackle in front of either the rear or front hackle could also be something to explore.